The New York Law Journal announced on August 21 that litigation partner Mary Eaton has been selected as a 2015 honoree for the publication's "Lawyers Who Lead by Example" awards. Ms. Eaton is being honored in the Pro Bono category, which recognizes attorneys "with an outstanding record of providing crucial legal services to poor or nearly poor New Yorkers."
This is the second year in a row a Willkie attorney has been recognized for this honor; litigation partner Richard Mancino was recognized in 2014 as a "Lawyers Who Lead by Example" honoree, also in the Pro Bono category.
Ms. Eaton has led Willkie's pro bono representations on numerous important cases, several of which have established key precedents in the areas of LGBT rights, due process rights/habeas corpus relief, employment-related claims, immigration and other areas.
Recently, Ms. Eaton has led Willkie's representation, as co-counsel with The Legal Aid Society and the Sylvia Rivera Law Project, of a class of transgender Medicaid recipients diagnosed with gender dysphoria ("GD"), who brought suit against the NYS Department of Health in Federal Court seeking to overturn a NYS regulation that excluded Medicaid coverage for transgender-related healthcare (Cruz v. Zucker). The suit resulted in an amendment to the regulation which now provides coverage for treatment for many low-income people suffering from GD. The Willkie team, led by Ms. Eaton, continues to pursue the suit to overturn the regulation's remaining barriers to Medicaid coverage, recently defeating the State's attempt to dismiss the complaint.
In addition, Ms. Eaton, along with other Willkie attorneys, served as counsel on behalf of 92 plaintiffs as amici curiae in the landmark U.S. Supreme Court case, Obergefell v. Hodges, successfully challenging the constitutionality of state bans on same-sex marriage.
Ms. Eaton has handled a variety of employment-related claims on a pro bono basis including several that were brought against Women In Need, a non-profit organization which provides safe housing, services and programs for homeless women and children, the Asian American Legal Defense and Education Fund and the National Emphysema/COPD Association.
In another class action litigation, Ms. Eaton was instrumental in challenging two federal regulations imposing filing fees for immigration and naturalization benefits.
The NYLJ awards, announced on August 21, will be presented at a ceremony in New York City on October 14.
Click here to read the profile.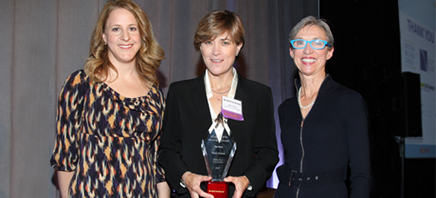 Photo credit: Jack McCoy