Willkie's Frankfurt office was named the 2015 "Law Firm of the Year" for M&A by leading German legal publisher JUVE. In describing Willkie Frankfurt in its 2015 handbook, JUVE "highly recommends" the firm for M&A, noting it as "one of the heavy-hitting outfits in Europe," with "an outstanding deal flow."
In granting the award, JUVE reported that "Willkie has been popular for its private equity activities and in this respect has proven its outstanding transaction skills… Clients repeatedly praise their strong commitment and transaction management, which provides clients with higher chances to win a deal in bidding processes." JUVE also noted that "not every leading U.S. law firm succeeds in gaining a sustainable foothold in the [German] M&A market," citing the firm's recent representation of Hudson's Bay Company in its €2.5 billion acquisition of GALERIA Holding, the parent company of Germany's GALERIA Kaufhof department stores – a mandate won in a bidding process against leading German law firms.
JUVE presents its prestigious "Law Firm of the Year" Awards to firms which, based on their work and market positions, have proven to be particularly dynamic in their respective fields of practice and have demonstrated outstanding technical capabilities, strategic development, client service and overall future potential. The JUVE editorial team nominates and selects firms on the basis of the extensive research it conducts for its annual handbook, reflecting many thousands of interviews and surveys of clients, lawyers, legal academics and judges.
In recent years, Willkie has been consistently recognized by JUVE for excellence in various areas of corporate law. The 2015 winners were announced on October 29 at the JUVE Awards gala in Frankfurt.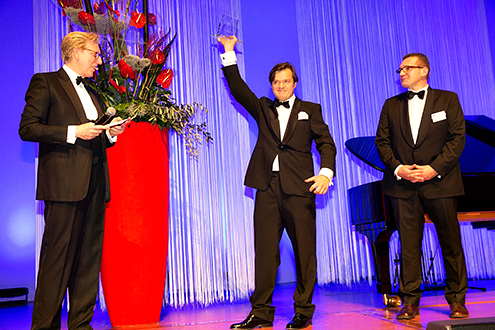 Partner Georg Linde accepts the award on behalf of Willkie.
Photo: Christina Kloodt/JUVE Verlag